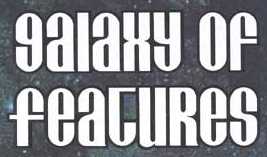 LNW80 Various Topics Page
Here I collect various snippets of information about LNW80 computers:
John Webb sent me this description of an LNW80 application in the early 80's. :

I think I may have had the first "desk top publishing" system that consisted of an LNW80 attached to a Xerox 2700 Laser Printer. The laser printer cost $24,000.00 back then and could have 4 font cartridges installed in it at one time. I used a parallel interface and Newscript word processing program and NewDos as the O/S. I had already interfaced the LNW80 to a phototypesetter and set type with it. It worked great and saved me a fortune on film. I cannot remember what year I did this but I do know the LNW80 II was not out yet.

I sold 2 LNW80's / XEROX 2700 laser printer combinations to 2 different companies. One company printed a "Blue Book" on used aircraft prices and they produced a new copy every month. They had been using an IBM MT/ST typewriter. They actually keyed in a complete book each month before I sold them the LNW80. The other company was a law firm that did "legal printing". They produced General Partnership documents primarily for Oil & Gas exploration partnerships.

I never got another micro until MSDOS seemed to start dominating the PC market. Then I bought an "IBM clone" and eventually my LNW80 was retired. I loved Newscript (you could have 2 different printer drivers loaded at the same time and it supported proportional spacing) and I used the LNW80 for quite a while just because of Newscript's capabilities. WordStar on CP/M machines was crap and when Wordperfect finally came out for MSDOS I was finally able to let my LNW80 go.

Another CP/M mod


Subject: 
Re:           Model I 64k?
Date:         Sun, 01 Jul 2001 11:02:55 +0200
From:         Knut Roll-Lund 
Organization: Nextra Public Access
Newsgroups:   comp.sys.tandy
References:   1, 2 , 3


There were probably many...

I have one that I bought in '84, from
General Northern Microcomputers Ltd. in England
My kit was for the Video Genie but They also had a version for the real
TRS-80 model I.

The kit replaces the original 4116 chips with 4564's and changes the
chipselect and addresses to fit.

It used port 127 for "bankswitching", 0=48K mode normal, 1=60K replace ROM
with RAM too and 3=64K whole address space to RAM.

Knut
PS Remove 'nospam.' to reply

These are the modifications to my own LNW.
Documentation on the Dutch Selector board. A LNW CP/M compatible upgrade with extendend bankswitching. Designed by Rence Roozendaal of the NO-division (Noord Oost/North East) of the dutch TRS80 user society.
Other TRS-80 related info at TRS-80 model 1 page
---
Last update: 2011-01-02